Looking for a natural and healthy way to treat your anxiety and other symptoms? Beam CBD might be the answer you're looking for. Its CBD oil is made with all-natural ingredients and has been shown to help reduce anxiety, stress, and pain. In this blog post, we will discuss the benefits of Beam CBD oil and its other products.
Rating: 8 out of 10
Beam CBD is a popular brand, especially among athletes, as its founders were athletes as well. The company offers CBD product bundles grouped according to specific benefits or effects. When you look at its easy-to-navigate website, you'd see that its product list is well-organized. You can also easily choose the category based on the effects you need.
Read more: Top Products of Sunsoil CBD
Beam CBD Details
Let's discuss some of the pertinent information about Beam CBD and what makes it a good brand.
Source of Hemp
Beam CBD sources its hemp from Colorado, USA. The company uses the CO2 extraction method to ensure that all its hemp extracts are clean, pure, and safe. This method is one of the cleanest among the different extraction methods since it doesn't leave behind toxic residues in the oil.
Third-Party Testing
Beam CBD performs third-party testing for potency and purity, sending samples of its products to verified lab testing facilities. The facility tests the products for heavy metals, solvents, pesticides, microbial, mycotoxins, and foreign materials. It also tests the products for cannabinoid profiles and concentrations.
Contact Information
Beam CBD's contact information is easily found on its website. The website also has a live chatbox that you can click. You can talk with its customer support through the chatbox or send an email at [email protected]. You may also call its team at (833) 904-2TLC.
Pros and Cons of Beam CBD
Learning more about the pros and cons of the brand will help you see if it's worth trying. It can help you reach a more informed decision.
Pros
What makes Beam CBD a great CBD brand?
Uses US-grown hemp that is 100% all-natural, organic, and non-GMO
Products are tested by accredited third party
Offers bundled CBD packages
Offers a 30-day money-back guarantee
Offers unique products
Cons
What are some of the areas that the brand needs to improve?
No free shipping
No or low CBD content in some products
2022 Product Reviews: Beam CBD
Let's check out some of this brand's top-selling CBD products.
1. Revive Capsules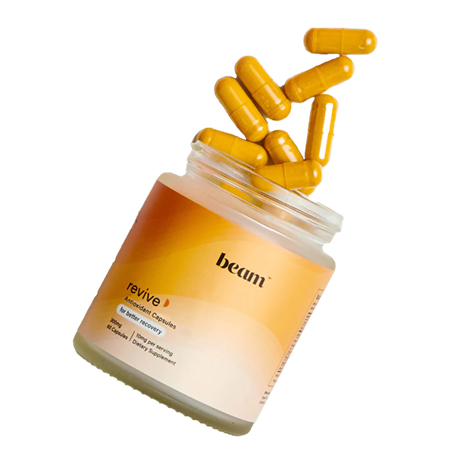 Beam CBD offers different products to choose from. One of them is the Revive Capsules which is designed for those who need a quick boost in their energy levels. This product gives you focus, mental clarity, and improved productivity as well. It contains 30 capsules with 10mg of CBD for every capsule. This product also has pine bark, turmeric, white willow bark, and nano hemp.
Revive Capsules is perfect for those who need to recover lost energy after a workout or a tiring day. It can also be used by those who are suffering from chronic fatigue syndrome. This product is non-psychoactive, so it won't mess with your brain and produce mind-altering effects.
2. The Fixer Salve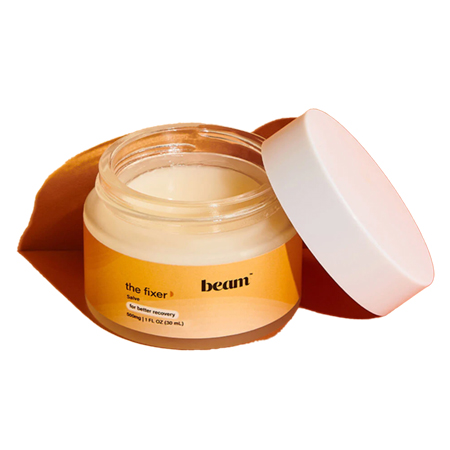 Beam CBD's Fixer Salve is perfect for people who are dealing with pain and fatigue. It comes in a jar and contains 500mg of CBD. The ingredients are compound-rich hemp oil, beeswax, lavender oil, and eucalyptus essential oil.
The Fixer Salve is easy to apply. You can just put some salve on your sore muscles and joints or other affected areas of the body.
This product is perfect for those who have muscle pain, joint pain such as tendonitis, arthritis, carpal tunnel syndrome, and other chronic pain conditions. It can also be used as a skin moisturizer. You may also use this product for minor skin irritations such as eczema, rashes, insect bites, and even sunburn.
3. Dream Capsules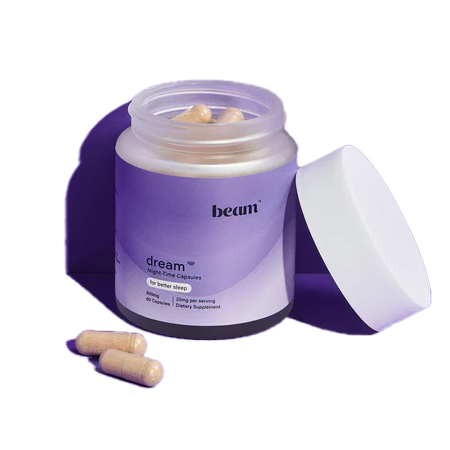 Beam CBD's capsule is designed to help you get a good night's sleep. It comes in a 30-capsule bottle, with each capsule having 25mg of CBD. The ingredients are hemp oil, melatonin, and magnesium. This product is non-psychoactive, so it won't affect your mood or mental state.
The Dream Capsules will help you relax and improve your sleep cycle to get a good night's rest. It doesn't make you drowsy, so it can become a part of your nighttime routine before going to bed. You can take one to two capsules at least 30 to 45 minutes before bedtime.
4. Dream Powder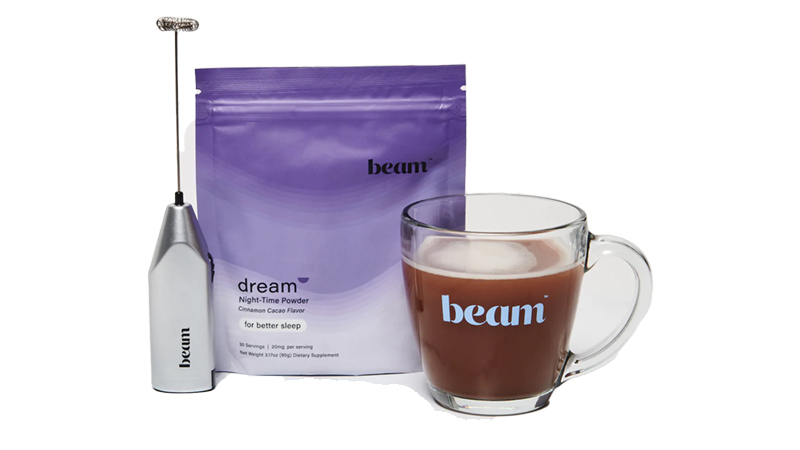 This Beam CBD nighttime sleep aid comes in powder form. It's made with hemp oil, and it also contains melatonin and magnesium. The Dream Powder will help you relax and get a good night's sleep. Just mix it with your beverage of choice before bedtime. It's non-psychoactive, so you won't have to worry about getting high.
This product comes in a 30-servings pack. You get all the yumminess of chocolate with a refreshing touch of peppermint. It is perfect for those who have trouble sleeping since they can use this to relax before going to bed.
5. Dream Extra Strength Capsules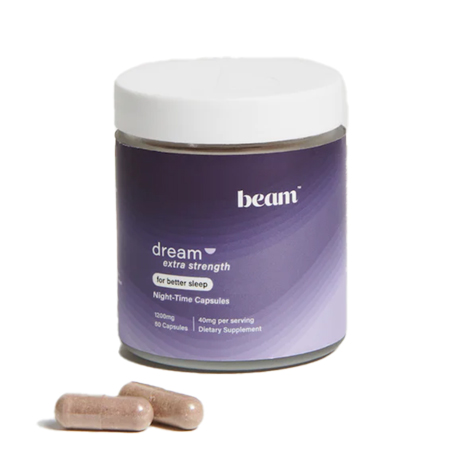 This product consists of hemp oil. Other ingredients also include melatonin and magnesium. It comes in a 30-capsule container, with each capsule having 30mg of CBD. This has a higher potency and will provide you with more CBD per capsule. This can help those who need a higher dosage in getting the benefits they are looking for.
Beam CBD's Dream Extra Strength Capsules are designed to help you get a good night's sleep. These capsules will help you relax and improve your sleep cycle so you can wake up feeling refreshed the next day.
6. The One Tincture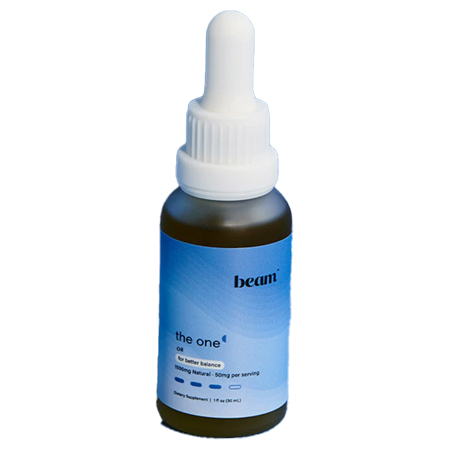 The One Tincture is an all-in-one product that can be used for your daily needs. Beam CBD specially formulated this tincture to improve your focus and mental clarity. It also boosts your energy levels throughout the day. This product comes in two flavors — natural and mint. You can also choose from different potencies. They have it in 500mg, 1000mg, 1500mg, and 2000mg CBD.
The One Tincture can be used as a daily supplement. It's great for those who need an extra boost of energy throughout their day but don't like taking pills or capsules. You can just place a few drops under your tongue, and you're good to go.
7. Clarity Powder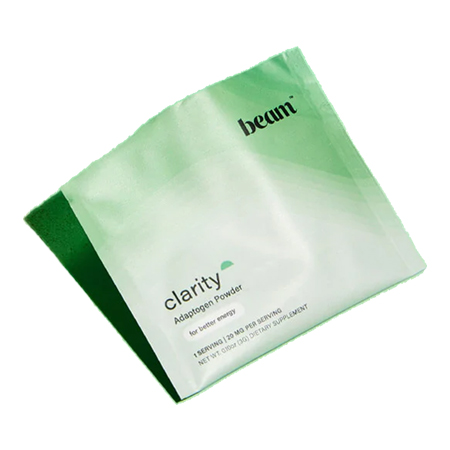 Beam CBD Clarity Powder is made with nano hemp oil, Rhodiola, and lion's mane. It comes in a 15-servings pack. Each pack contains 20mg CBD.
The Clarity Powder is designed to give you an energy boost without the jitters. This is perfect for those who need to focus on their work or studies but don't want the crash that comes with drinking coffee or energy drinks.
Read more: Comprehensive Review of Level Select CBD
Where to Buy
You can purchase these products from Beam CBD's website. You can also get two mini fixers free for every purchase. To avail of the company's promotions, you need to place an order on its website and not on other online retail stores that carry its brand.
The brand offers free shipping on some products.
What's Beam CBD's Return Policy?
Beam CBD has a 30-day return policy. If you're not happy with the product, you can return it for a full refund. You just have to make sure that the product is unused and in its original packaging.
Read more: Secret Nature CBD Products Review
CBD Legal FAQs
This discusses some of the issues surrounding CBD — its benefits, legality, and interaction with other drugs, among others.
1. How safe is CBD?
CBD has not been linked to any deaths or serious side effects. It's a natural substance produced by the cannabis plant that has helped many people with various health concerns.
CBD is safe for most adults, but it might interact with some of the medications you're taking, so make sure you talk to your doctor before taking it if you're on other drugs. If you're pregnant, nursing, or have any medical condition, please consult with your doctor first before using this product.
2. Is CBD legal?
CBD derived from industrial hemp with less than 0.3% THC is legal and available to everyone under the 2018 Farm Bill. However, CBD derived from marijuana is illegal since marijuana and its parts remain a classified substance.
3. What are the benefits of CBD?
CBD has been known to help with a variety of health concerns such as anxiety, depression, pain, inflammation, and more. CBD oil is a natural supplement that can be used to improve your overall health.
Read more: CBD for Tendonitis: Does It Help?
4. Can I take CBD with other medications?
Some medications might interact with CBD, so it's best to talk to your doctor before taking this supplement, especially if you're on medications like blood thinners and anxiolytics.
5. What is the difference between hemp oil and CBD oil?
Hemp oil and CBD oil are not the same things. Hemp oil is made from the seeds of the hemp plant and doesn't contain cannabinoids and terpenes. CBD oil, on the other hand, is extracted from the flowers of the hemp plant. The hemp flower contains rich amounts of cannabinoids and terpenes.
Read more: Full Review of Wyld CBD
Conclusion
Beam CBD has a variety of products that can help you get the benefits of CBD. You can choose from tinctures, capsules, powders, and sleep aids. They have different potencies to fit your needs. All of its products are made with nano hemp oil and other natural ingredients. You can purchase these products on its website and get free shipping on some products. The company also has a 30-day return policy if you're not happy with the product.
Overall, Beam CBD is a great brand with high-quality products. Its products can help you improve your sleep, focus, and energy levels. You just have to make sure that you pick the right product for your needs.