Secret Nature offers high-quality CBD products. Their products contain the finest ingredients and are tested for purity. This review will give you a closer look at their product lineup and know why this brand is one of the best CBD brands on the market today.
Company Rating
4 out of 5
Secret Nature has been operating since 2017 and has become popular for its artisan CBD-rich hemp flowers. It has a wide variety of hemp strains and is all organically sourced. It's a great brand option if you prefer to take CBD naturally and in its purest form. Although it doesn't have many options for edibles, it has multiple varieties for vapes, pre-rolls, and flowers.
Secret Nature Details
Secret Nature ensures up-par quality starting from its harvests up to its final products. Here are some of the things they do so they can achieve this goal:
Hemp Source
Secret Nature only sources the hemp they use from some local organic farms in Oregon and Colorado. A supercritical CO₂ extraction process is used as it is the cleanest and most effective method available.
Third-Party Test Details
Most of Secret Nature's products are third-party tested for potency and purity. You can rest assured that their products contain no pesticides, solvents, or heavy metals. However, some of its products have no lab results available on the website.
Pros & Cons
Before purchasing, you must know the good and the bad of the brand you're about to spend on. Here are the pros and cons of the company that you have to know:
Pros of Secret Nature
The company is reputable;
Uses high-quality and organic hemp flowers;
Plenty of hemp strain options;
Uses supercritical CO₂ for extraction; and
Have freebies and offer free shipping.
Cons of Secret Nature
Some products don't have COA reports;
Incomplete information on the website; and
The return policy only applies to unopened products.
Read more: Beam CBD: Is It Worth to Buy?
2022 Product Reviews: Secret Nature
Secret Nature is focused on cultivating high-CBD but low-THC hemp. It's known for providing a wide collection of strains such as Frosted Kush, Mr. Rainbow, Diesel Puff, and Sweet Cake which are some of its best-selling strains. As for the product offerings, the company is known for its CBD flower and pre-rolls.
1. Hemp Flower Drops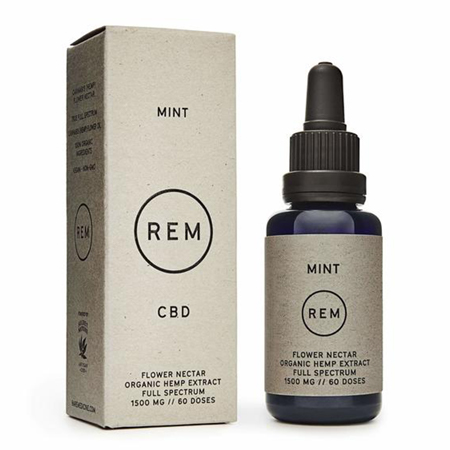 The Organic Hemp Flower Drops are versatile. This product contains ingredients like Black Seed oil and Shilajit. These substances work well in increasing the absorption and effectiveness of CBD.
Each bottle contains 30mL of 1250mg of full-spectrum CBD. Each drop contains 2mg CBD. It's available in mint or unflavored options. Keep in mind, though, that even when the tinctures are flavored, there will always be a strong 'grassy' flavor in them.
This product is used by adding it foods and drinks. But the company recommends you take the sublingual method as it promotes maximum absorption.
2. Secret OG CBD Pre-Rolls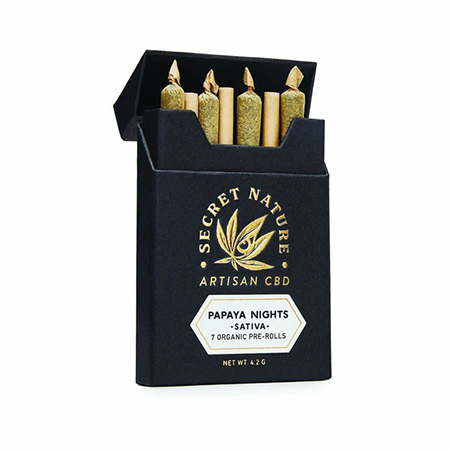 If you want a smokeable product, the CBD Pre-rolls are for you. These pre-rolls are made with Secret OG. This is Secret Nature's award-winning strain. The company uses whole-flower hemp that is hand-trimmed and rolled in unbleached natural papers.
Each joint has 117mg of CBD and 126mg of total cannabinoids for every 0.6 gram. This product can be bought in 2 joints or 7 joints per pack. The secret OG strain is an Indica-dominant hybrid that has an earthy aroma with hints of gas.
The only downside to this product is that its flavor doesn't last long in the mouth. But if you're looking for a good smokeable, the Secret Nature CBD Pre-rolls can be a great choice for you.
3. CBD Vape Pen Cartdriges (White Fire OG)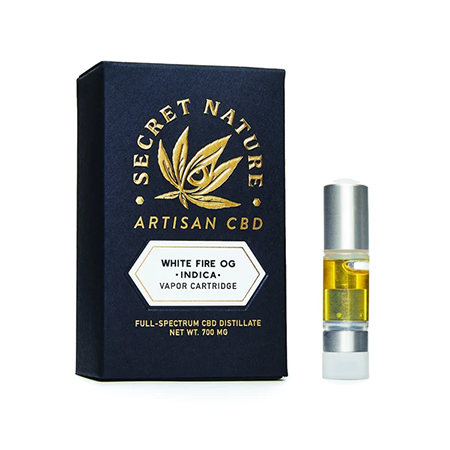 If you're looking for a vape cartridge that will give you an intense CBD experience, the White Fire OG is perfect for you. This cartridge contains 436mg of CBD and 442 total cannabinoids per 700mg cartridge. It's also available in a 1200mg cartridge. You can choose to buy it by itself or the one that has a battery and a charger.
The White Fire OG strain is an Indica-dominant hybrid that is known for its relaxing effects. The aroma is citrusy with earthy undertones, and the taste is slightly sweet with a kick of pine.
Keep in mind that this product is not ideal to be used in the morning due to its relaxing effects, which can make you feel sleepy. Also, some experienced users who have tried this product expressed that it's not as potent as compared to the flower line.
4. CBD Live Resin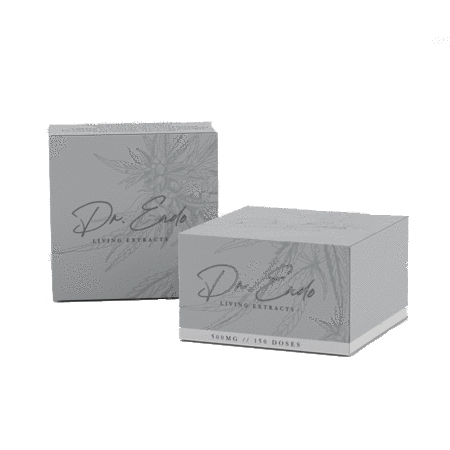 Secret Nature's CBD Live Resin is one potent product. It is made with whole-plant cannabis that is flash-frozen at harvest. The company then uses a supercritical CO₂ extraction process to preserve the terpenes and cannabinoids.
Each jar contains 1 gram of CBD, and you can choose from two-strain options: Sour Kush or Papaya Nights. The Sour Kush is a combination of Sour Diesel and OG Kush and has aromas of diesel and citrus. The Papaya Nights is an uplifting Sativa with a terpene profile of sweet and fruity flavors such as papaya, peach, as well as pear.
This is also a versatile product that you can use in many different ways. You can use it by vaporization, dabbing, and mixing to flower for smoking. It's ideal for new and experienced users since it's easy to control dosage.
5. Frosted Kush CBD Flower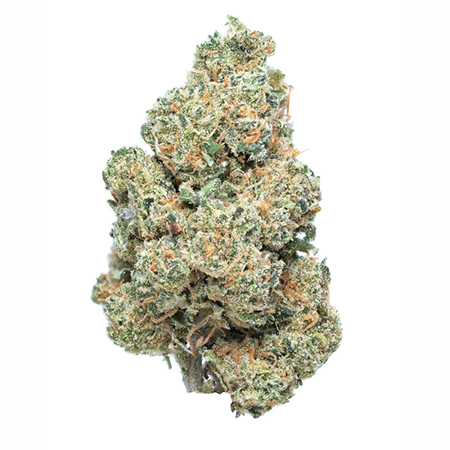 If you want a terpene-rich CBD flower, the Frosted Kush might be the best product for you. This product contains 19.5% CBD, 22.4% total cannabinoids, and less than 0.3% THC.
The Frosted Kush strain is an Indica-dominant hybrid that has the aromas of fresh berries and cupcake frosting. It tastes like your favorite dessert. This strain is best used by those who want to feel relaxed and focused. It is best used during nighttime to achieve quality sleep.
You can choose from four different weight options: 3.5 grams, 7 grams, 14 grams, and 28 grams. This is one of the best-selling products of Secret Nature, proving that it is worth the try.
6. Dream Capsules – CBN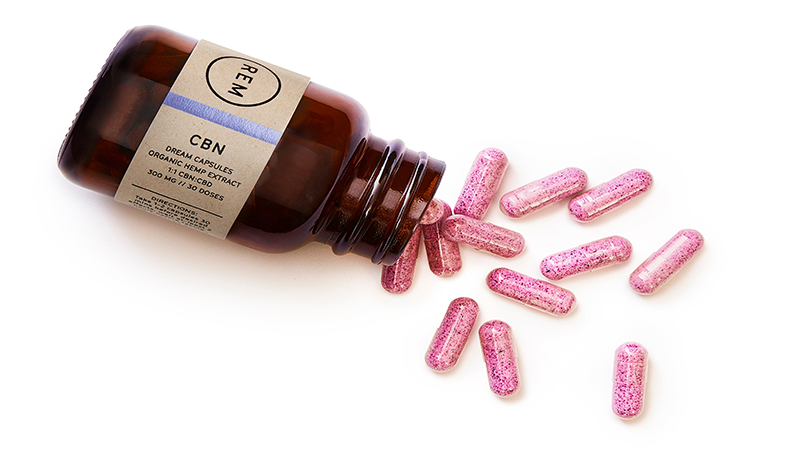 If you're looking for a CBD product that can help you sleep, the Dream Capsules are perfect for you. These capsules are made with hemp extract that's infused with dragonfruit, MCT oil, and fractionated coconut oil.
Each capsule has 30mg of the same ratio of CBD and CBN. This product is ideal if you're looking for something that can help you feel relaxed and calm before bed. It's also gluten-free, vegan-friendly, and non-GMO.
As for its downsides, it's not advisable to be taken in the morning since it can make you feel sleepy. Its potency may be too low for experienced users. But it contains zero THC content, so it's available for international shipping.
Where to Buy
It's also important that you know your options when it comes to the methods of purchasing. Secret Nature products are available online and in-store. Read more to know which one is the best option.
Online
All Secret Nature products can be purchased on its official website, secretnaturecbd.com.Online ordering is better as it guarantees you that the product you'll be getting is legit and fresh stock. You can also learn a lot of information about each product on the website.
In-Stores Near You
Secret Nature has its retailers, but there is no information about the location of these retailers that can be checked on the website. Also, the company doesn't recommend buying through retailers other than purchasing the products on its website.
What's Secret Nature's Return Policy?
Secret Nature's return policy is a little different from other companies. For one, the company only accepts returns for unopened products that are in their original condition and packaging.
Although, the good is that you'll be getting a full refund which includes the shipping costs. You can also exchange incorrect or defective products with no additional costs.
Read more: CBD Oil for Nerve Pain
CBD 101
Are you still unsure about CBD? Check these FAQs about CBD that we have answered for you:
Read more: Can CBD Help With Tendonitis? 
What is CBD?
CBD is among the many cannabinoids that are found in cannabis plants. It's non-intoxicating and offers different benefits, including anxiety and pain relief and better sleep quality.
Read more: Does CBD Help With PTSD? 
What are the health risks associated with CBD?
There are no serious health risks associated with CBD when it's used in recommended dosages. However, pregnant or breastfeeding women, children, and people with medical conditions should consult a physician before using CBD.
Read more: Blue Dream CBD Weed Reviews
Can I vape CBD?
Yes, you can vape CBD by using an e-cigarette or vape pen. However, it's important to note that not all CBD products are meant for vaping. Check the product label before using it.
What is the best way to take CBD?
The best way to take CBD depends on different factors, such as your individual needs and preferences. Some people prefer to take it orally in the form of tinctures or capsules, while others like to use it topically as balms or creams.
Is CBD legal in my country?
All thanks to the Farm Bill, CBD is legal in many countries only when it contains no more than 0.3% of THC. However, it's better to check the laws of your specific country before ordering or using CBD products, especially since all states have their own Controlled Substances Acts (CSA).
Conclusion
Secret Nature is a great CBD company that has become popular with its artisan CBD-rich hemp flowers. It's a good choice for those who only want an organic and pure CBD experience. Not only are its products of high quality, but it also has a wide variety of hemp strains to choose from.
The only downsides are that some products don't show any lab results. The website also has little information. However, these are minor concerns compared to the company's overall quality.